If you're in the Network Marketing business, you understand it's not what you know, it's who you know.
But it can be tiring having to connect physically with prospects.
Don't you wish there was a way you could turn your MLM business into a digital marketing machine?
That's exactly what this book "Network Marketing Secrets" will cover.
Using simple sales funnels, you will be able to transition from just doing home parties, to being able to sell to anyone online.
No more lugging around tons of equipment and stock to reach an audience of 10 – 20 people, how about being able to market to 10 – 20 million people?
It will also help you to expand your direct sales team from yourself and maybe a family member, to an entire network marketing company.
Oh, and did I mention the Network Marketing Secrets book is 100% free?
Conclusion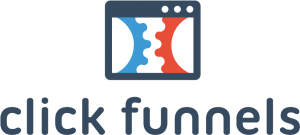 Here is exactly why you should read Network Marketing Secrets:
Pros
104 Pages of Network Marketing Secrets
Learn from an expert who has "been there" and been successful
Free of Cost + Shipping
Plenty of built-in templates
30-Day Money Back Guarantee
Cons
It might take a few weeks to ship
Network Marketing Secrets by Russell Brunson is a unique addition to the world of marketing and does prove to be intriguing. With its enriching details, innovative strategies, and interestingly written content, the 104-page book aims to offer an all-encompassing look into what works and what doesn't.
I personally feel this is a great read for all network marketers out there who run their own businesses, but they sand to get into the world of internet marketing and sales funnels.
There is no denying that you are in a numbers game, so the more numbers you are getting, the more sales you will generate.
Still not convinced to get this free book? Then read on to see how successful network marketing companies do things.
Who Is Russell Brunson?
Russell Brunson is the co-founder of a software company called ClickFunnels. While they mostly focus on creating sales funnels as their business model, Russell actually started as a Network Marketer.
In fact, he was one of the top sellers in the company that he was in. He was such a good seller, that he actually won a Ferarri!
How crazy is that?
Since Russell was in the network marketing industry, he has extensive knowledge of the networking marketing world and how things work. That's why he is in the perfect position to tell you how you can turn your network marketing business into an online business using a simple sales funnel.
Since his time in the MLM space, Russell has since become an internet marketing expert who has sold well over $1,000,000 in one day.
If you really want to achieve network marketing success, then Russell is who you need to listen to.
What Is The Network Marketing Secrets Book About?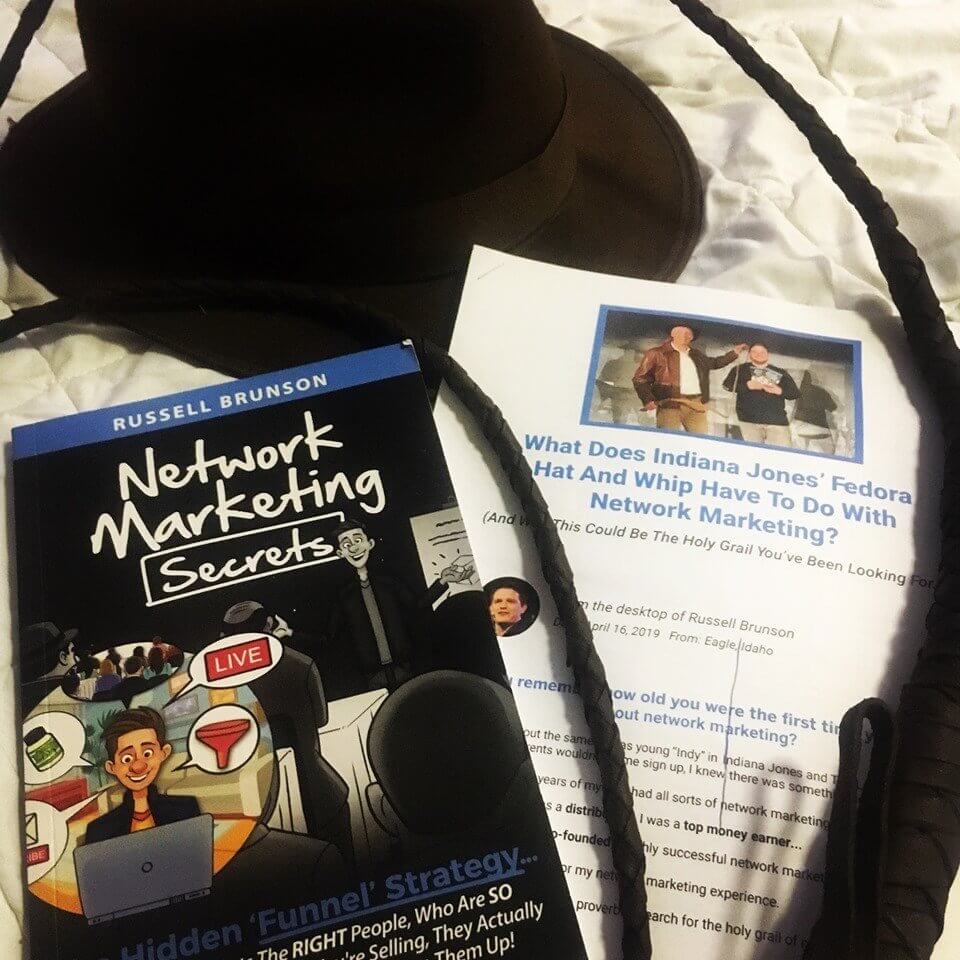 Let's face it, now most network marketing strategies are all using the same cookie-cutter methods. Yes, some may work to an extent but when you are competing with 500,000 other network marketers, you need to do something that will help you stand out from the crowd.
If you're still doing house parties, and hotel meetings, great. Keep doing them. But what happens once you stop?
Ask yourself.
Will you still be making the same money as you are now?
This is why inside the Network Marketing Secrets book, the primary goal is to get you to shift more of your MLM business into an online business using sales funnels.
Maybe you're looking for more salespeople and have been dreaming of the perfect way to find them. Well, I found it! In fact, this book will show you how recruiters are getting prospects who are so super-interested in your opportunity they're practically RAISING their hand.
The primary purpose of reading Network Marketing Secrets by Russell Brunson is to learn about marketing strategies and sales funnels.
Russell Brunson breaks down the sales process into specific funnels including:
The Bridge Funnel
The Home Party Funnel
The Hotel Meeting Funnel
Each one is integral to the sales process and is written about in detail for one to understand. This is something that separates Network Marketing Secrets from its contemporaries because the book is straightforward and effective in delivering its message.
Are There Any Upsells?
Would Rusell be a household name in the internet marketing industry if he didn't upsell you something? Of course, he wouldn't.
There are 3 offers you will be presented after you claim your free Network Marketing Secrets Book.
The Black Box
One Funnel Away Challenge
Traffic Secrets
Before you instantly dismiss them, I highly suggest you pick up the Black Box and the One Funnel Away Challenge.
The Black Box contains Russell's other books called DotCom Secrets and Expert Secrets. Again these books offer insane value and after reading them, marketing will just make sense to you.
I'm going to be real with you, these books sent me to another level when I started getting serious digital marketing!
Not only do I own these books with the normal soft covers, but I also own the exclusive hardcover collection!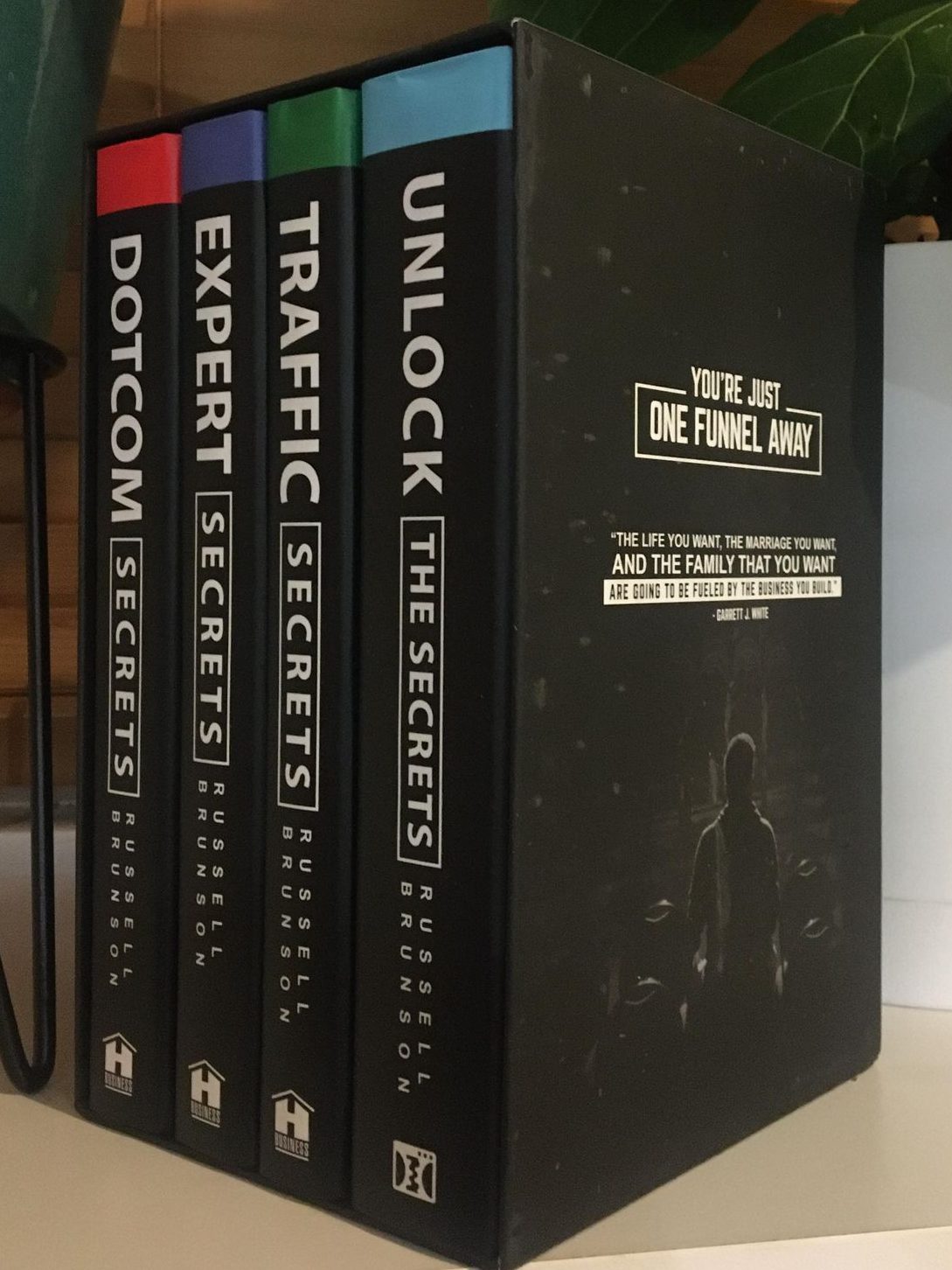 The other upsell I suggest you get is called the One Funnel Away Challenge. The OFA challenge is a 30-day ClickFunnels training course that will teach you exactly how to sell your core product, and how to use sales funnels effectively.
If you're looking to make sales online and generate leads then this is for you.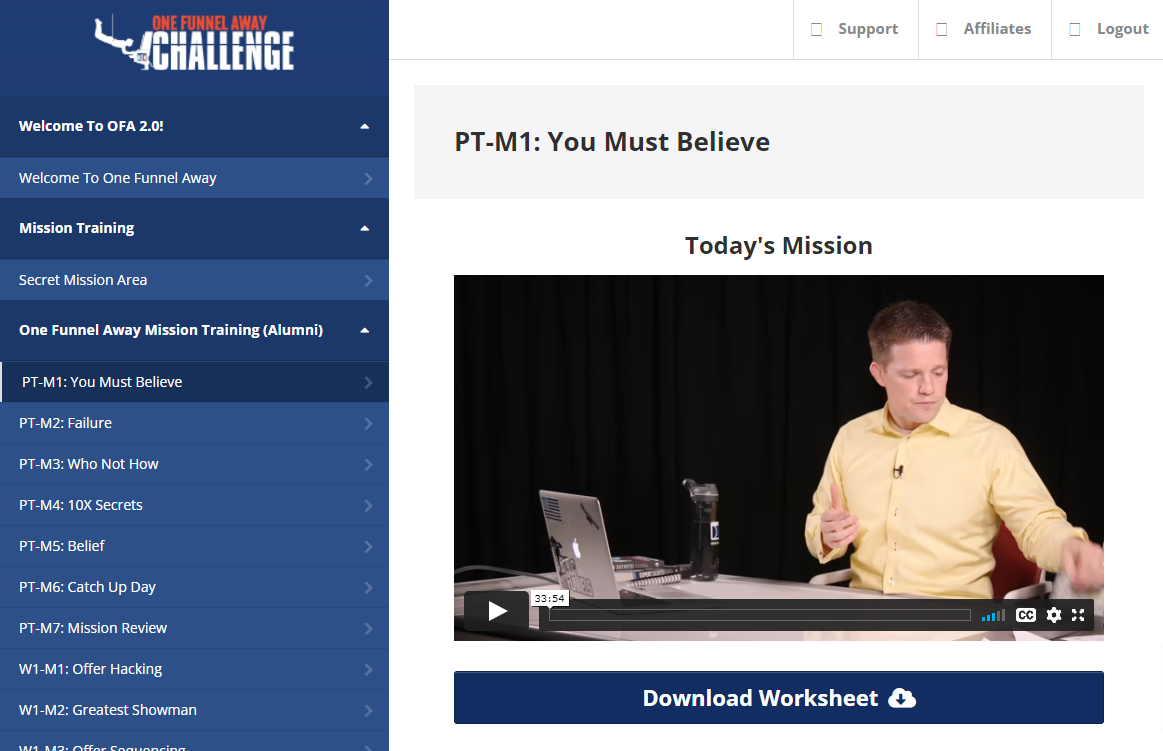 Remember, you don't need to buy any upsell and you still get the Network Marketing Secrets book free.
But if you're serious about generating leads, it's a small price to pay to get into the digital marketing space.
The Traffic Secrets course, while it's good, I personally don't think it's needed when you are at this stage in your journey.
You don't need tens of thousands of visitors to your funnels when they are not correctly set up yet.
What Is Network Marketing?
Network marketing or MLM marketing is a form of selling products to different levels in kind of a pyramid structure. Kind of like how affiliate marketing and tier 2 commissions work. Network marketing works in the way where you sell a product, and then if someone also wants to sell it, they buy from you.
Making you kind of a supplier of the product.
There are many different ways you can promote. But the way I like to think of it is like affiliate marketing.
Mostly when it comes to us doing Network Marketing, we are doing affiliate marketing and talking Tier 1 and Tier 2 affiliates. Where the Tier 2 affiliates will make money for you at Tier 1.
Pros
Let's take a quick look at why you should pick up the Network Marketing Secrets book.
100% Free (Just Pay Shipping)
How can a book that is free be a bad thing? Inside Russell literally gives you all of his network marketing secrets and all you need to pay is to ship the book.
If you have still not already got the book yet, I have to ask you why? Seriously, please leave me a comment below so I know why you won't order a free book.
Click here and get your free copy today.
Easy To Follow
The language used in this book is exceptional because it avoids being flowery. There's nothing worse than picking up a book on marketing secrets and realizing it is impossible to understand because it's written poorly.
With this in mind, Russell Brunson has made sure to keep things straight to the point without force-feeding jargon into the middle of his advice. This alone is what makes it stand out as a worthwhile read because the goal is to improve one's marketing approach rather than to impress with lengthy words.
Being able to go through the book in one sitting is what makes it such an enjoyable read.
Great Support Setup
This is not one of those books where a person is made to fend for themselves when it comes to implementing different strategies. Instead, readers are able to speak to someone that is knowledgeable with a quick email. This is essential for those looking to get their feet wet without making a significant mistake.
The support staff is not only professional but also incredibly helpful in what it is able to offer throughout the process. Readers are going to learn even more with their assistance because these are true professionals and they know what it takes to do a good job.
Fun and Personable
This is one of those underrated advantages a person may not notice at first, but it's an essential component in making Network Marketing Secrets incredible.
The content is well-written and incredibly fun when one starts to understand what's going on. Each detail has a bit of personality behind it, and that's what makes it truly engaging. Readers are able to fly through the pages and learn as they go without having to stop worrying about it being dry. This is a significant plus point since too many books end up being boring even when there's useful information available.
With this being fun and personable, readers are going to fall in love with what's written immediately. This is what makes it stand out.
Ideal for All Industries and Niches
The best part about Network Marketing Secrets has to do with its transferability for different industries. It's not reserved for one specific niche, and that is a big reason, professionals from a variety of industries like what the book has to offer. It's well-written, and it works across the board making it easier to enjoy.
Readers will learn something or another with this guide because it's universally applicable for their needs.
Cons
It wouldn't be a full Network Marketing Secrets Review if we didn't take a look at some of the cons of the book.
Takes Time To Arrive
This isn't going to arrive within the first few days. Instead, it is going to take at least a couple of weeks for the book to be sent over. This has to do with how long the shipping process is depending on where the buyer resides.
For the average buyer, this is going to take at least a week to be sent over, and that is a considerable amount of time for some people.
As long as a person is willing to wait, it will be well worth the investment.
Final Verdict: Network Marketing Secrets Book
So is this book full of secrets worthy of a pickup?
Yes, Network Marketing Secrets is a helpful book and offers a fascinating list of tips for using sales funnels!
It's a beautifully written book that has been made by someone in the know. Russell Brunson has laid it all out for you in an easy-to-understand way.
Other Articles