ClickFunnels vs Leadpages, what should you get? An eCommerce store needs more than just a great landing page to be able to make sales.
It needs a sales funnel that can capture interest, build a list, and convert leads into sales. It is, however, not easy to come up with a sales funnel from scratch.
Fortunately, there are tools to help business owners develop high-converting sales funnels for their products.
Two of these tools include Leadpages and ClickFunnels. How do you choose between the two?
This article will provide an in-depth analysis of the ClickFunnels vs Leadpages so you can make an informed choice.
ClickFunnels
Unlike Leadpages, ClickFunnels goes beyond building landing pages. It gives you the opportunity to create your own complete sales funnels. The landing page is just a small part of the sales funnel that you create. It makes it easy and seamless to sell products.
Some of the features of ClickFunnels include a powerful drag-and-drop editor that is easy to use, landing page software, complete website hosting, professional themes, and templates, A/B split testing, and email autoresponder software among others. Right now, There is an amazing Clickfunnels bonus stack that you can get!
What role does ClickFunnels play in your business?
Some of the functions of ClickFunnels include:
Building a sales funnel: ClickFunnels provides ready-made sales funnels with customizable templates for different web pages opt-in, sales, checkout, and thank you pages.
Website building: You can also build your own website from scratch and include opt-in forms, checkout carts, and payment integration among other functionalities.
Customer relation management: ClickFunnels lets you customize your email marketing messages to different categories of customers for maximum benefit and increased lead conversion.
Create affiliate marketing programs: You can create affiliate marketing programs so that other people can earn commissions whenever you make a sale from their referral. This boosts the chance that your brand will go viral by a ton.
ClickFunnels Integrations
ClickFunnels has a number of integrations that ensures that you get the most out of your business. Some of the integrations include:
Payment integrations with payment processors such as Paypal, Stripe, and EasyPayDirect among other payment processors to ease revenue management.
Integration with Customer Relations Management (CRM) tools which give the business detailed customer information for effective marketing strategies.
Integration with email marketing tools such as MailChimp so that you can create customized email marketing campaigns for excellent results.
Pricing
ClickFunnels Pricing gives you the choice of two payment plans with the lowest plan starting at $97 per month.
The other package, the Etison suite plan, costs $297 per month. The Etison suite is, however, more enhanced than the starter.
ClickFunnels allows users a 14-day free trial period for both packages. ClickFunnels vs Leadpages, Leadpages wins at price.
Leadpages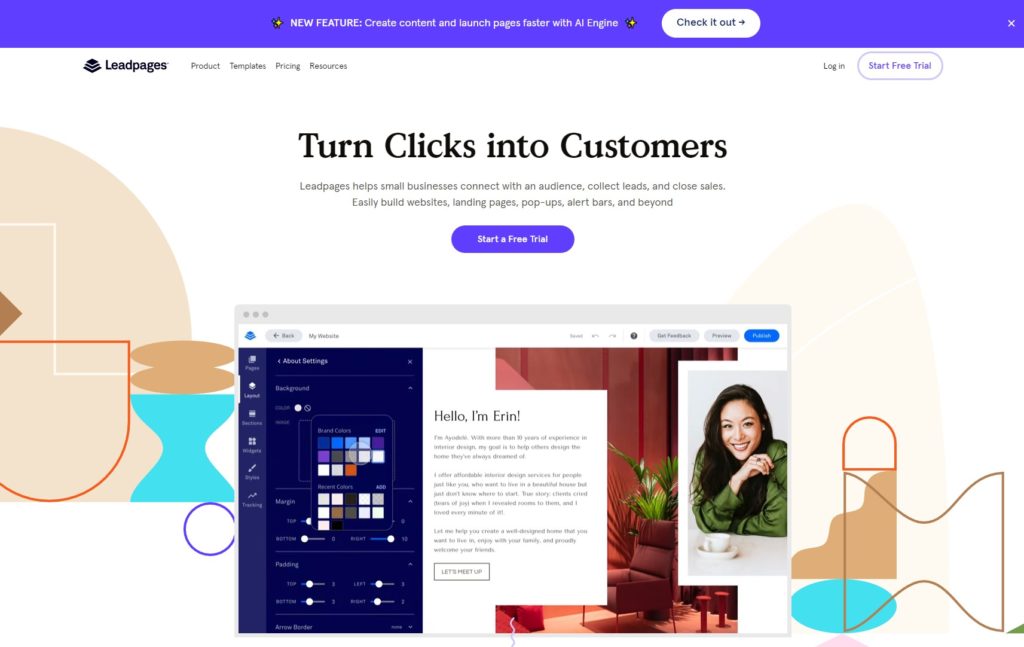 GET YOUR FREE LEADPAGES TRIAL!
Regarding ClickFunnels vs Leadpages, Leadpages is a landing page-building tool that integrates with email service providers to make capturing leads for your action easy.
You can use it to generate leads from your site, through text messages, emails, and even social media platforms. You don't need to have prior experience in coding to be able to use Leadpages.
Some of the features of Leadpages include:
Drag-and-drop customization to help you seamlessly create a landing page.
A number of mobile-friendly templates are at your disposal so that the landing page is also optimized for mobile devices.
A/B testing option so you can know which landing page version gives optimal performance.
Integration with various software such as CRM, emails, and webinar platforms so that you can get the most out of your landing page.
Robust analytics so that you can monitor the performance of your landing pages.
Leadboxes which help you in capturing leads. It has a lead capture pop-up that automatically adds a lead to your mailing list and a built-in lead magnet delivery system which makes content marketing and list building a cinch.
What role do Leadpages play in your business?
Leadpages has so much to offer for an eCommerce business. Some of the uses of Leadpages include…
Host a webinar: Webinar software is a little expensive. However, Leadpages gives you access to webinar templates complete with a chatbox for live Q&A sessions so that you can easily embed your live webinar presentation. You can also host Google Hangouts broadcasts.
Opt-in boxes within blogs: Leadpages lets you have access to simple and streamlined pop-ups to encourage subscription to your blog.
Easy landing pages: With their templates, it is easy to create a stunning landing page for your website without a bit of coding.
Leadpages Integration
Leadpages has a number of integrations with other platforms that make your work easier (because life is just better when our tools work together). Some of these integrations include the following:
Google Insights and Javascript analytics platforms integration so that you have detailed insights about the performance of your business so that it's easy to come up with a strategy that leads to long-term business growth.
CRM software such as Salesforce, Zoho, and Infusionsoft are useful in successful campaigns that help in lead conversion.
It also has other integrations with other services such as email marketing software, digital marketing platforms such as Facebook Ads and Google AdWords, business-to-business marketing automation, online payment platforms, social media platforms, webinars, and more.
Pricing
Leadpages has three different packages that are billed annually, coming in at $25, $48, and $199 per month.
Final Thoughts on ClickFunnels vs Leadpages
So there you have our ClickFunnels vs Leadpages review. ClickFunnels seems like a more powerful tool as compared to Leadpages.
It is, however, important to note that Leadpages is solely for building great landing pages while ClickFunnels goes beyond that.
With ClickFunnels, you have all you need for your online business so you won't have to manage other tools as well.
The only features that are similar to both tools are the visual front-end WYSIWYG editor for landing pages, A/B split testing, mobile-responsive landing pages, 1-click opt-ins, and Webinar Funnels.
The option that you go for will depend on your needs as a marketer. If you are just looking to capture leads through your landing page, then Leadpages is your go-to tool.
If you are looking for something more expansive, then ClickFunnels is what you're looking for. If you think there are more differences between ClickFunnels vs Leadpages that we forgot to mention, let us know in the comments below.
Other Articles