Sales funnels are an essential component of any successful eCommerce business. They are designed to improve conversion rates and increase sales.
However, with so many platforms available, choosing the right one can be a daunting task.
ClickFunnels and Builderall are two proven sales funnel platforms that have helped businesses achieve significant results.
If you're having a hard time deciding between Clickfunnels vs Builderall, this blog post will provide a detailed comparison to help you make an informed decision.
Builderall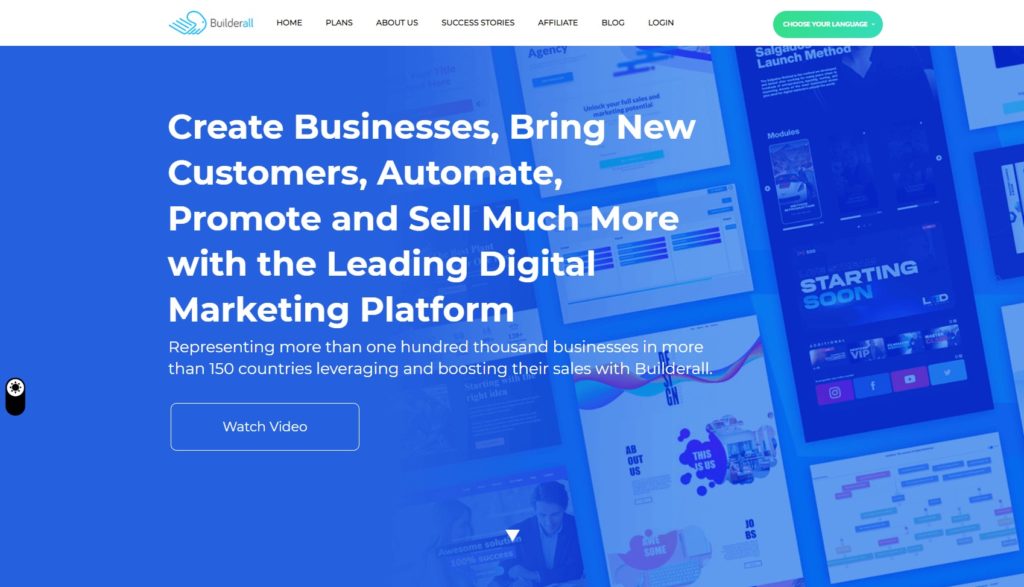 Builderall is an all-under-one-roof digital business building and marketing platform that equips the seller with the required marketing tools necessary to successfully run an online business. You can comprehensively build a beautiful website with amazing landing pages, blogs, and sales funnels under one system. You can even make mobile apps too.
Its features include:
Sales Funnel & Website Builder for creating a responsive website with good landing and squeeze pages by dragging and dropping. The pages are viewable on mobile, tablet, and desktop devices.
Professionally Automated Email Marketing for unlimited automatic autoresponders for communication with your subscribers. You can segment your list based on behaviors in order to enhance lead conversion.
On-Page SEO Report Tool for easier indexing of the web page and higher ranking on organic search results.
Heat Map Tool to make conversion rate optimization a data-driven decision rather than a shot in the dark.
Online Community & Training to help you grow your business. There is a private Facebook group for members and weekly training to improve on skills.
iOS/Android App Creator to easily create apps for Google Play and the Apple Store from within the BuilderAll platform.
BuilderAll's Affiliate Program
The Builderall affiliate program is well-paying, giving 100% on all products in the first month. After that, you'll earn 30% per month if they stay enrolled.
Builderall's Pros & Cons
The Pros
It comes with all the marketing tools you'll need to run your business from a central point.
It has affordable pricing for new members.
User-friendly drag-and-drop interface for building websites.
Mails have high deliverability.
The Cons
You have to pay for the Business Plan to be able to earn money as an affiliate marketer for the software.
Making your pages mobile-friendly is not as easy as it should be.
ClickFunnels
ClickFunnels allows you to create hard-working sales funnels with their drag-and-drop interface even if you have no prior experience in coding. There are different funnels that a business can create on ClickFunnels, from sales funnels, squeeze page funnels, to product launch funnels among others. While most people compare ClickFunnels vs BuilderAll, they do have some differences. Clickfunnels features include:
Intuitive Landing Page Builder that makes it easier to create a sales funnel even if you are inexperienced. It only takes minutes to build a page. Drag and drop elements will allow you to customize the pages to your preferences.
Sales Funnel Templates that allow you to create sales funnels that are proven to bring results. Sales are almost guaranteed.
Detailed Analytics & Reporting for analysis of your funnel conversions. You are able to monitor the performance of each funnel and make necessary adjustments.
Excellent Customer Support that is guaranteed to have a solution to your problems.
A Very Active Online Community where you can exchange ideas and share solutions to some of the most common problems.
ClickFunnels® Share Funnels makes it easy to share your funnels with friends and partners. You will also get a commission if they sign up from your link.
ClickFunnels® BackPack enables you to monitor your affiliate network if you are on the Etison Suite plan.
The Actionetics functionality allows you to send automated emails and SMS campaigns reliably.
ClickFunnels' Affiliate Program
Beyond making money from your own business and sales, ClickFunnels has a very active affiliate program. Both users and non-users have the opportunity to earn a 40% lifetime recurring commission on most subscription-based products and on one-time product purchases. Both ClickFunnels Vs Builderall have dream car contests.
There is also front-end offers such as Expert Secrets and Perfect Webinar Script where users can earn money as affiliate.
The affiliate boot camp allows you to promote the software even if you are still using the trial version of it. Non-users can also do promotions. They do everything possible to encourage affiliates to find success in promoting their high-quality product.
ClickFunnels Pros & Cons
The Pros
You can create your own full, multistep sales funnels that include upselling and down selling.
You can share your funnels with your friends through the ClickFunnels Share Funnel. Friends who are already users will have the funnel imported to their accounts while non-users have the opportunity to sign up.
You can create membership sites with access determined by the customer's purchase habits.
ClickFunnels has one of the best and most rewarding affiliate programs. There are also a wide variety of products for which you can do affiliate marketing.
A large online community where ideas and solutions are shared.
The Cons:
Their plans are pricey if you are on a tight budget.
The standard plan doesn't offer Actionetics and BackPack. The number of funnels, landing pages, and monthly visitors is also restricted.
They have slow customer support at times.
Final Thoughts on ClickFunnels vs Builderall
So what's the verdict on ClickFunnels® Vs BuilderAll? While BuilderAll may be a cheaper option for those on a tight budget, it doesn't provide advanced functionalities as ClickFunnels® does. At 40%, ClickFunnels® pays a higher recurring commission. On the other hand, BuilderAll only pays 100% commission on the first sale then it drops to 30% afterward. Builderall also only allows those who have paid for the $49 package to promote the software while ClickFunnels® is open to anyone who wants to promote its software as an affiliate.
In conclusion, Builderall's digital marketing tools are more suitable for small businesses with limited budgets and time. ClickFunnels is designed for people who are looking to expand their online businesses through sales funnels and marketing automation. The good news is that each has a 14-day trial period so you can have a taste of both worlds before making a choice.
Other Articles