In this post, I'm going to show you exactly how to start affiliate marketing (even if you're a complete beginner!)
This in-depth guide will include topics such as:
How to start an affiliate blog
Choosing the right affiliate programs
Advance affiliate strategies
And secrets others won't even tell you in their paid courses!
So if you have been putting off getting started as an affiliate, now is the time to get started!
What Is Affiliate Marketing?
Affiliate marketing is where you earn a sales commission from promoting and selling products from another company. Over the years, this has become one of the more honest and reliable ways to make money online. This infographic explains what affiliate marketing is.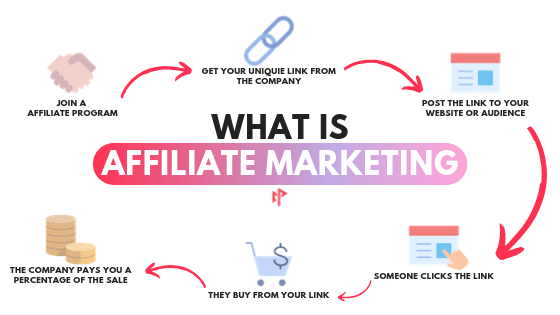 Simple right?
For example, say there is a product that we like and want to refer a friend, we would use our unique link to send our friend to the companies website. Once our friend buys the product, then the company that sells the product would send us a percentage of commission.
My Affiliate Marketing Backstory
I first started becoming interested in becoming an affiliate a few years ago now in 2015. Initially, I just wanted a little extra cash every week, I never really saw it as a proper business.
Every day I would see people get results but always my commissions were $0! It was hard to keep at it making no money. But the way I saw it, if someone else can do it, then so can I.
I tried every method out there, bought a ton of courses, still NOTHING! Eventually though, after testing, testing, more testing, and combining methods, ideas, I started to make some money.
My first $0.36 cents commission came though!
Not much but I was pumped to work harder. The next few days, went $1 per day, and then eventually It was making between $10 – $20 every day. That was $500 per month.
I was hooked! I had cracked the code. It was time to start making some big money.
THEN IT HAPPENED. I started making NOTHING again!
What had gone wrong, I ended up trying again promoting something else, started making money again, and then *poof*, stopped earning again. Was there something I was missing?, what was the secret that everyone else had but I didn't? (the secret that I will reveal in this blog post) Well after months of trial and error, I figured it out.
Today I have been an affiliate for many companies and most recently I became a Clickfunnels Dream Car winner.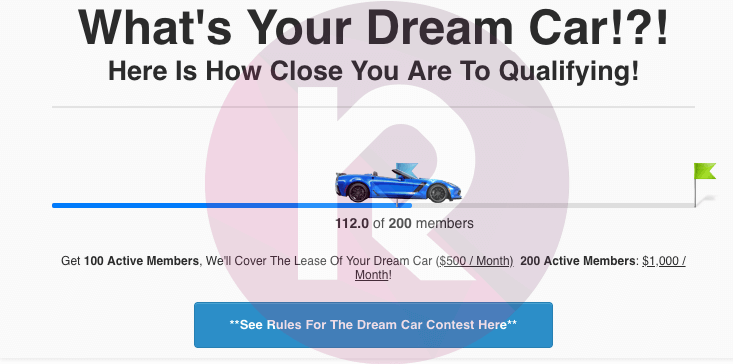 I never would have thought in my dreams I would have a company pay for my car lease for me. But it can happen, you just need to put in the effort and you will get the returns.
Why Start Affiliate Marketing?
Why should you even bother starting to become an affiliate marketer in the first place?
Here are a few benefits that will help you decide if becoming an online affiliate is the right path for you to go down:
Easy and low cost to entry to your own online business (you don't need your own products, inventory, payment processors etc)
A great way to earn extra money online (passive income)
Multiple ways to earn commission
Less stress than a regular business
But let's get something straight, just because it's easier to get started compared to a regular business, it's still going to take LOTS of work to get your systems in place to start making a commission.
What Products Should You Promote As An Affiliate?
This is something I get asked a ton!
The answer is……….. what do you enjoy?
You need to have a passion for what you are promoting, if you do, the money will come. If you don't, you will get bored with what you are doing, you won't love it, won't be inspired to keep working on it and ultimately you will fail.
I can tell you first hand that money is not a motive for what you are doing.
So, find something you love, find quality products in that area, start promoting!
You can also try and find some trending topics to look at
How To Find Affiliate Programs To Promote
There are multiple ways you can find different affiliate programs, some harder than others
Marketing Platforms
Marketing platforms are what connect companies with products with affiliate marketers. The good thing about these is they are trusted platforms and are reliable with their payouts.
Sometimes when you go directly to a merchant, you may earn commission and not get paid, while this is a harsh reality of affiliate marketing, using a marketing platform will help avoid this.
While this is a good thing, they tend to take a decent percentage for themselves so the end commission to you isn't as much. Some platforms are Amazon, Clickbank, and JVZoo
These are where most people get started so it's worth signing up and at least have a look around.
Pros
Easy to use
Reliable, feedback from others
Statistics on how well a program does
Cons
Less commission than direct to merchant
Loads of competition
Lower quality offers generally
Direct To Merchant
Direct to merchant means that you are working directly with a company. For example, if you're in the software niche, you will find that most offer an affiliate program. You can easily find this by using google and typing "the software name + affiliate"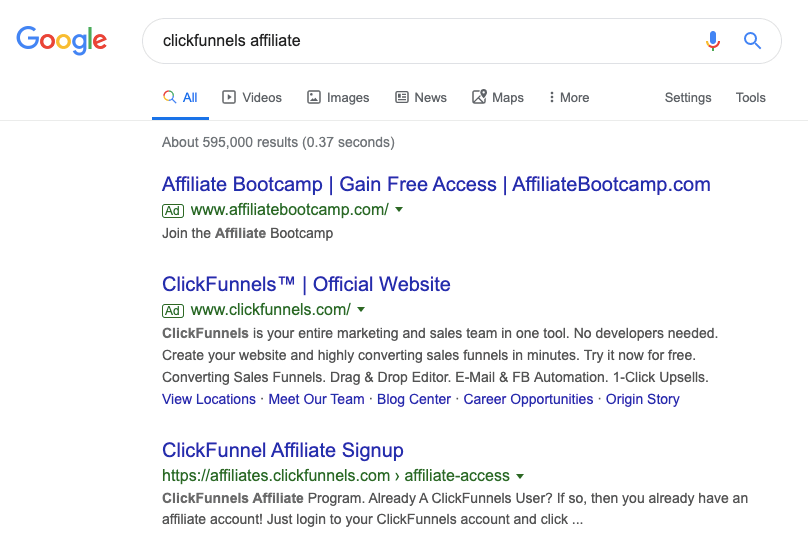 This is a pretty simple method. If you struggle to find the merchant you want to promote, then look at blogs for products in your niche. You will get an idea of what to promote after a few hours of looking around.
However, you MUST be sure they pay out before you go hard spending lots of money promoting their products. You will find that many programs are dishonest, don't convert, or simply DONT PAYOUT!
It has happened before and that is why we like to test products first before we actually promote them now. Even that system is not foolproof.
Pros
Better commission
Incentives, bonuses or competitions for extra commission
Builds a nice relationship with the brand
Cons
Harder to track
At the mercy of the merchant
How To Start Affiliate Marketing
So now you grasp the idea of what Affiliate Marketing is, it's time to get into the meat.
I will be going with a direct to merchant affiliate route to show you. As it's easier to focus on one product for your first venture. I can tell you from experience, you don't need to be promoting 1000 different things at once.
Simply stick to what you know.
Let's get started!
Step 1: Choose your first product and get your referral links
Now we covered how to find what affiliate products to promote, now it's time to choose a product.
But remember what I said earlier.
Make sure you're interested in that product or industry.
Even something where you have existing knowledge.
Once you have something in mind, then google that product. Let's say, for example, my interest in building websites, and I have this amazing web host I want to promote called Dreamhost.
The first thing I would do is check they have an affiliate program by googling "Dreamhost affiliate"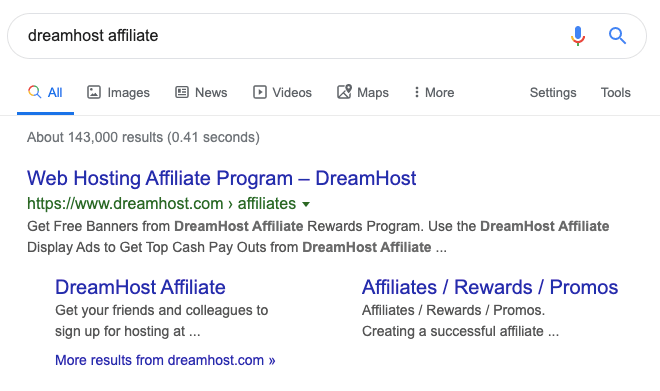 As we can see, it's the first result.
So we can sign up using that link. Most places are the same when you go direct to the merchant. After we sign up, we can get our affiliate referral URL.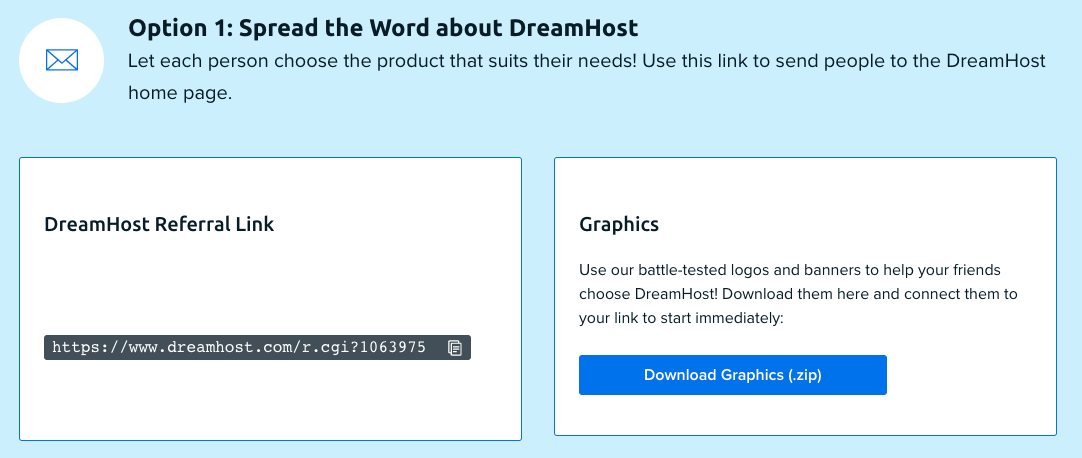 It will look something like this (again this will look different depending on the affiliate program you sign up for)
Save this link, we will need it for later.
Step 2: Find the mediums you want to promote on
This is where lots of people get stuck. Where should you promote your affiliate offers?
Well, my philosophy is simple, promote it where people are already looking.
Where is that for most things on the internet?
Google and Youtube!
For Google, I suggest that you start a blog (I will have an in-depth guide for this soon), and for youtube, well, start a channel.
You do not need an email list, opt-in forms, runnels, sequences, or ANYTHING when you are getting started.
Yes, those things can help you but only after you gain some more experience. They can all be added later to compliment what you have. Simply right now, start getting some content up.
Now I know what you're asking "how can I promote it though, what do I make a video or write about?", well that's exactly what we will go over next.
Step 3: What content to make about your affiliate products
Content, where most people overcomplicate things. I'm going to share with you a few methods of content ideas for your affiliate products.
Your job is to push someone to make a purchasing decision. Keep this in mind when you are writing or recording your content.
Now I have one rule you need to follow for your content.
Look at the other content, videos, or blogs, and think to yourself "how can I make this better"
There is no point putting out something that someone else is going to beat. Be it by word count, how in-depth you go etc.
Let's look at the two methods for content I prefer.
Review the product
Perhaps one of the most common things people do when they want to promote something is to simply review the product you are talking about. Let's look at some examples when we look up "Dreamhost review"
One of the websites is https://hostingfacts.com. Now, this is a niche blog that reviews all different kinds of web hosts and compares them against each other. This is a PERFECT example of an affiliate website.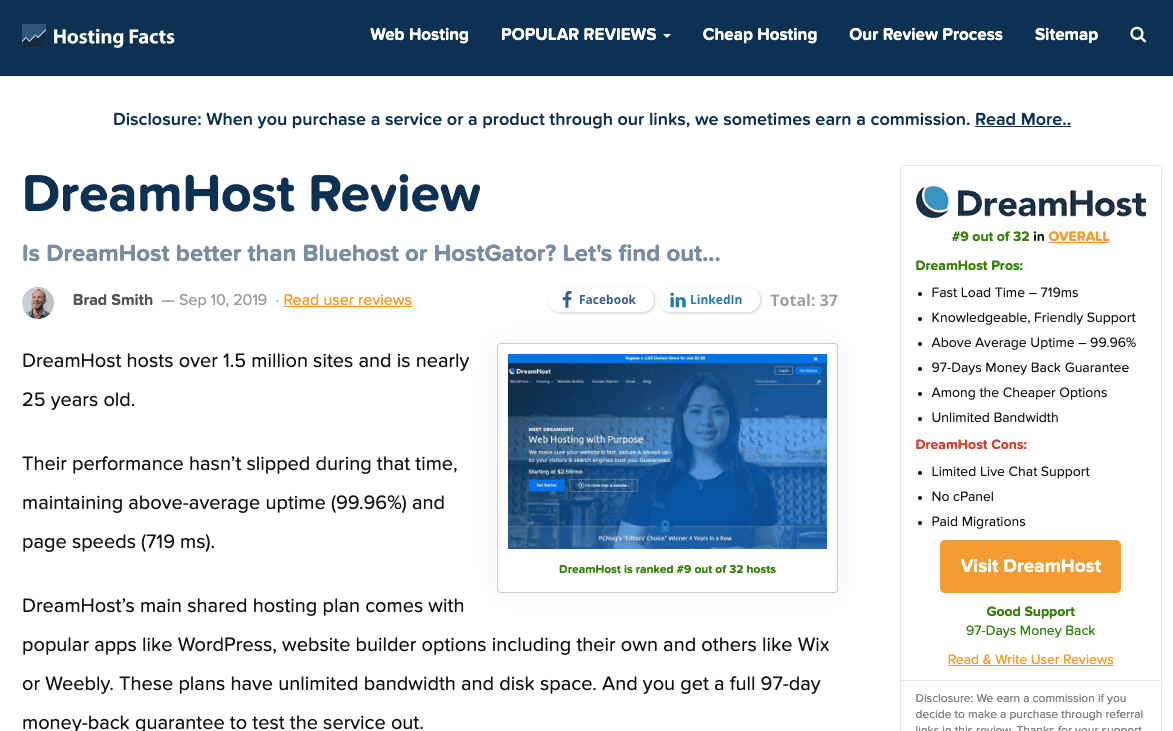 You can see at a glance they have the Pros and Cons on the right-hand side so people can make a Purchasing decision quickly. The rest of the article is really just in-depth comparisons and filler for google.
They also have a nice big call to action button so it's easy for people to visit their affiliate link.
You can also do a screen capture and show people around your affiliate product then post it on youtube.
Now let's move onto the next method you can promote your affiliate products
Show people how your product can solve their problems
This is my preferred method of promoting things as an affiliate. You simply need to solve people's problems.
People are hard-wired for instant gratification. If there is something where they can skip work, or have something done easier, then they are more likely to buy something on the spot.
Here are some topic examples where you could promote Dreamhost
Easy ways to start a blog
How to build a website for a small business
Starting a photography website
Now you will see these are all the same thing just targeting a different audience. This is where you can combine your main niche with something else you are interested in.
BUT WAIT
There are differences in these terms, can you see what it is?
Check out a tool called Ubersuggest
Put in what you want to make content or a video about, now look at search volume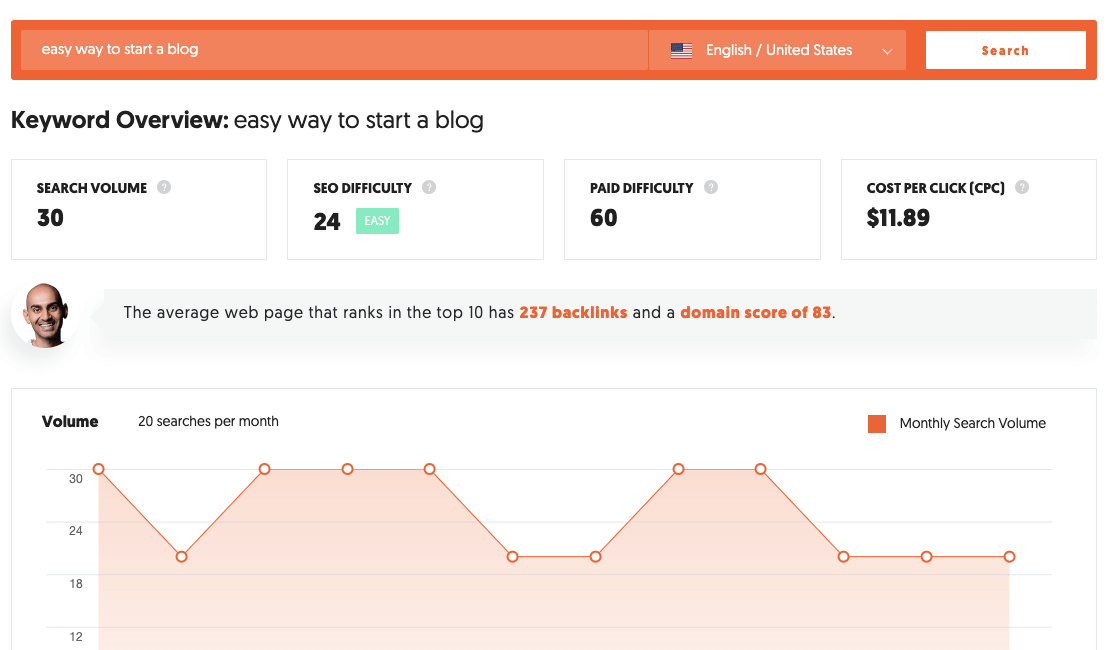 Notice how the search volume is only 30 per month? That means we wouldn't really get much organic traffic to our affiliate links.
Personally, I look for search terms with over 320 searches per month. You can find ones that are smaller, but just be aware, you are not going to get lots of sales from that content.
If you're still struggling with content ideas. Then check out SERPbar for Google Chrome. Once installed it will show you a sidebar on Google Chrome with "People Also Asked For"
This is literally a list of questions people are asking that they want responses to.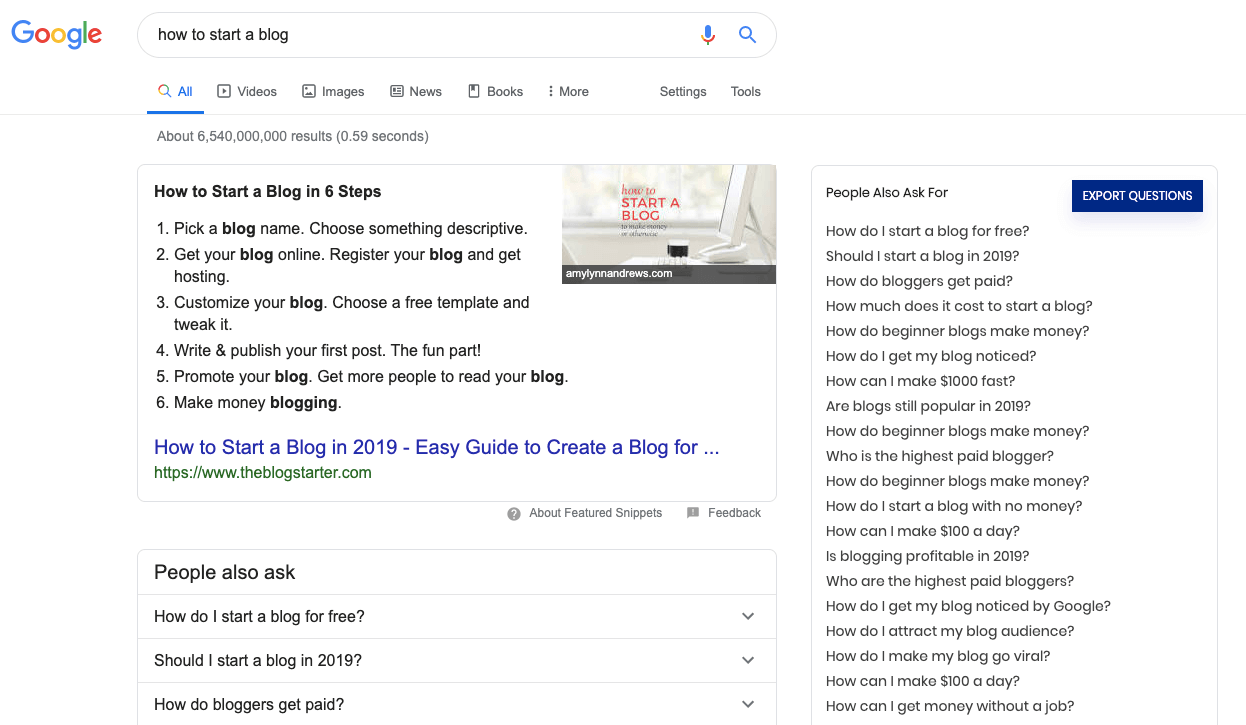 If we look through, we see some topics Dreamhost might be a good fit for that question.
This is just a matter of trial and error.
Step 4: Post and promote your content.
Finally, you are at the stage you need to promote your content.
What I like to do when I first create content is to find relevant places to post that content. Example
Reddit
Quora
Forums
Facebook Groups
You can't just post without adding some value first though. Just posting a link with no context won't get you anywhere. Just join the conversation. Position yourself as an expert (read Expert Secrets for more on this) so that people trust you.
There are also other things you can do such as youtube channel optimization, SEO, but that is getting a little out of scope for this post.
Affiliate Marketing FAQ
Let's take a look at some of the more common things I get asked when people ask me how to get started in affiliate marketing.
Is Affiliate Marketing Easy?
This is where lots of people confuse 2 things about any online business.
They confuse accessible with easy.
And what happens if they confuse that? Well, they give up after about 5 minutes of not getting results. It's like anything. You need to put in the hard work to get results. Your first sale WILL be the hardest.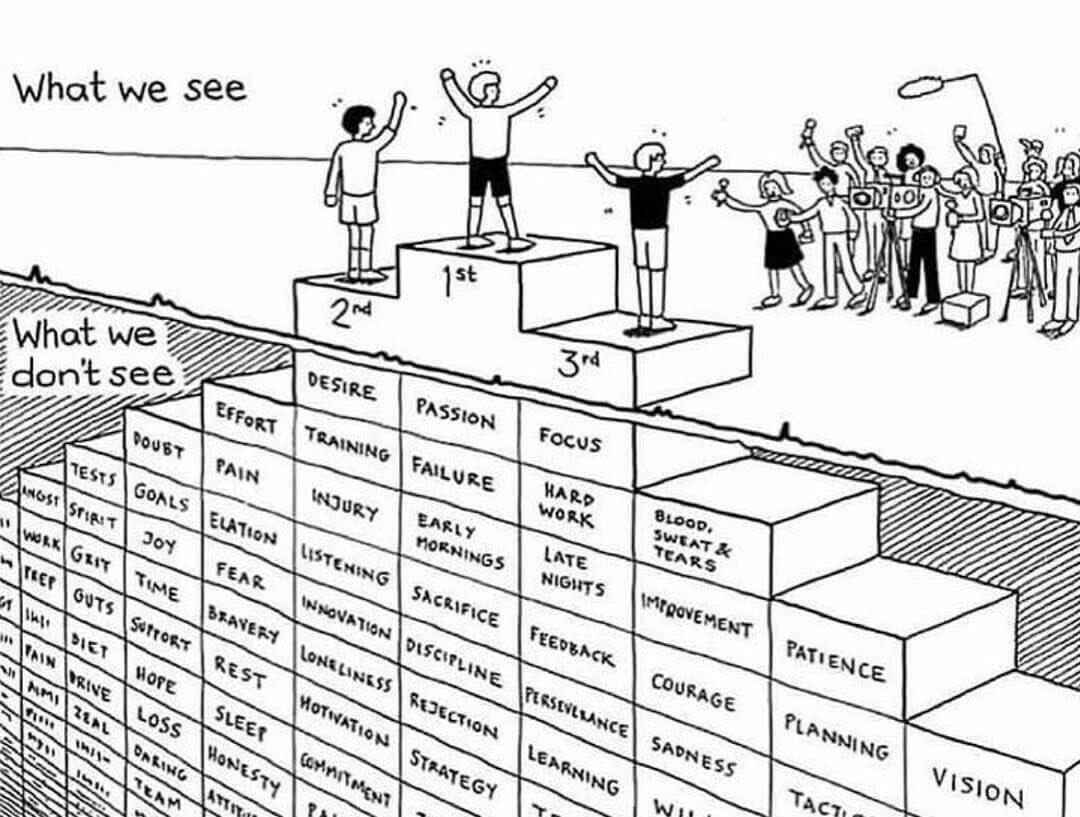 So, is Affiliate Marketing easy? Not at first. But in reality, its like anything in life. You got the learn to walk before you can run.
Is Affiliate Marketing The Same As MLM?
No, with MLM you get profits from bringing new people into your network to sell the same products as you. They, in turn, buy those particular products from you.
With affiliate marketing, you are bringing in regular customers and connecting them with a business.
Can I Be An Affiliate Marketer Without A Website?
Of course, you can. There are many platforms out there that allow you to post content.
The issue is you do not own that content. With a website, you are 100% in control of your content, forever.
How Long Does It Take To Make Money With Affiliate Marketing?
This really depends on many factors such as how good is your content, the product, price point, how many people visit your links etc.
It can be as soon as 1 day to as long as 6 months. It all depends on the effort you have put in.
Can You Make Good Money With Affiliate Marketing?
Yes, I know people who make 5 – 6 figures per month as an affiliate. Some numbers I would have thought were impossible. However, these results are not typical and are only dependant on how much work you are putting in.
How To Start Affiliate Marketing Conclusion
Well, now you should be able to get started as an affiliate. The biggest thing people fear is just getting started.
Honestly, you just need to pull the trigger and get promoting. Once you make your first few sales you will wonder why didn't you get started earlier.
Other Articles