You NEED the Marketing Secrets Blackbook NOW!
"Really Michael? another book?"
Well yes, but hear me out first.
This isn't just like any other book, in fact, it's only available online.
It's actually cliff notes, the best bits, the filling of Russell Brunson's (ClickFunnels founder) podcast.
So instead of listening to over 500 episodes, you get the BEST 99 secrets that helped ClickFunnels go from $0 to $100,000,000 in only 3 years!
Oh, and did I mention it's FREE?
Conclusion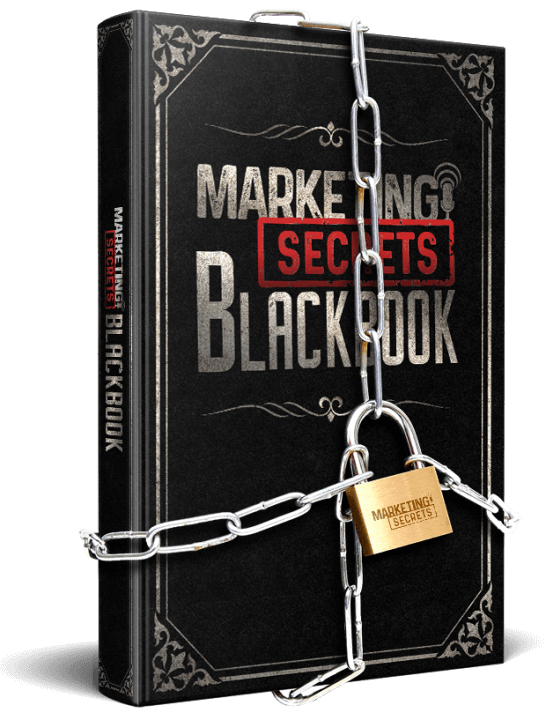 Here is exactly why you should get the Marketing Secrets Blackbook now:
Pros
99 secrets that will change your business
Saves you time and money
Insider intel
No nonsense, straight to the point
Cons
Remember this is a FREE book, and you get to download the PDF instantly so really you should go to the link above and get your free copy right now.
Let's dig into how the Marketing Secrets Blackbook will change how you approach digital marketing.
What Is The Marketing Secrets Blackbook About?
What if I told you the key to business success was simple?
This book, Marketing Secrets Blackbook will show you how to use little-known tactics and tricks of the trade-in order for your business or marketing campaigns to be successful.
You will learn:
How Russell Brunson turned ClickFunnels into a $360,000,000 company
Tricks you can use to land new clients and more leads
How to create a business that paying customers will come back to
Funnel tricks you can use to enhance growth
These secrets are ones that can be applied immediately-they don't require much time investment on behalf of entrepreneurs like yourself who want results now!
And best yet…It's all free.
What do YOU think would make me more excited about giving away this life-changing knowhow!?
I typically cringe at book titles like Marketing Secrets Black Book. They feel very gimmicky to me. But then again, My Opinion Doesn't Matter (ironically secret #1).
My opinion doesn't matter because I've only built a million-dollar business and not a $100-million-dollar business like Russell Brunson, the author of Marketing Secrets Black Book. So I gave Marketing Secrets Black Book a second look.
The Marketing Secrets Black Book is a summary of Russel Brunson's best marketing advice distilled from over 500 of his podcasts.
You get the best of what Russel Brunson has learned in the past 20 years, all packed into a "cliff notes like" PDF. And it's free to download.
Summary of The First Seven Marketing Secrets + A Bonus Secret (The Author's Favorite)
To give you a taste, here's my super summarized version of the first seven marketing secrets:
SECRET #1: "Your Opinion Does Not Matter"
Don't be afraid. Try stuff. People will always have an opinion, customers might get offended, and things might not work. Just experiment and follow the numbers—not opinions.
SECRET#2: "Outsourcing Marketing Is Like Outsourcing Sex"
Don't outsource your marketing. It's how businesses (babies) are born. Once you get good at it, it's also the fun part of doing business.
SECRET #3: "The Chicken and The Egg of Marketing"
At some point, you need to face the facts. Are you an entrepreneur or a "wantrepreneur"? Real entrepreneurs are marketers. They understand that investing in systems like ClickFunnels is what generates sales. ClickFunnels isn't just a software, by the way. It's courses, community, and the Clickfunnels software all wrapped into one — a system.
SECRET #4: "The Doctor With The Apple Was right"
An "apple a day" keeps the doctor away. A "webinar a week" keeps your business at its peak, haha. Seriously though, webinars keep you close to your customers. It also holds you accountable t listening and selling to your customers consistently. Learn how to do Webinars by downloading the Marketing Secrets Black Book and read secret #4.
SECRET #5: "What You Measure Grows"
I love this one. What you focus on grows. Create a simple scorecard for your business. It can be a whiteboard on your wall or spreadsheet on your second monitor. Just make sure your scorecard is always open. It focused on growth and beats FOMO when shinny new object try to distract you. Learn what metrics to track by downloading the Marketing Secrets Black Book and read secret #5.
SECRET #6: "Stop Wasting Time On B-level Opportunities"
We have a limited amount of concentration and time each day. We need to make sure we are focusing on the opportunities that give us the highest return on our time, money, and satisfaction. For example: why would we sell socks for a $10 margin when we can sell posters for a 30 dollar margin when it takes the same amount of effort?
SECRET #7: "Become a Buyer to Become a Seller"
This marketing secret makes me think of drug dealers who don't use their products. Don't be a drug dealer. Use your product or buy similar products from others because you believe in it. That belief will transfer to your customers and ultimately help you sell more. So for example, if you are going to sell courses, be someone who buys courses.
BONUS SECRET: "Don't Be an Amateur"
One of the author's favorite secrets is "Don't Be an Amateur." It's secret #32 on about page 99 of the Marketing Secrets Black Book PDF. Another way to word this: "Amateurs Focus on the Front End." I would have to say that this is one of my favorite marketing secrets, as well. It took a while for it to sink in when I first started in marketing.
The point is that too many people focus on the profitability of the first sale they make to a new customer. What they needed to understand is that it's much easier to sell something else to an existing customer than to acquire a new customer. So even if the first sale isn't profitable, the follow-up sales will be—the second, third, and fourth, and fifth sales you make to the same customer.
That's why pro marketers can spend too much on ads or heavily discount their products on marketplaces like Groupon to acquire the customer's first purchase. They don't have to be profitable with the first sale. But they make a killing selling to them over and over throughout the lifetime of the relationship.
This marketing secret is why Russel started Clickfunnels. The ClickFunnels software is so powerful because it turns amateur marketers into pro marketers by helping them maximize the lifetime value of each customer through upsells, downsells, order bumps, and follow-ups.
What Is The Marketing Secrets Black Book?
Marketing Secrets Black Book Review, what is it? Marketing secrets black book is another Internet marketing guide from Russell Brunson and the professionals at Clickfunnels®. In this review, I'll be discussing what this book is all about and how to get one.
This book is all about different strategies and methods that you can implement in your online business to improve its conversion rate and revenue.
In this guide, Russell discusses 99 marketing secrets that he believes will change your business as well as your personal life. It's a 291 pages guide that Russell created with the help of Julie Stoian (who is one of the integral team members of click funnels) and is also a co-author of various guides published by Russell Brunson.
Russell tries to bring in the best stories and marketing strategies that he has experienced and learned in his 10 years of career as an Internet marketer and entrepreneur. The steps and methods which he discusses in this guide can be implemented not only in your business life but also in your personal life.
I know, the book is 291 pages long and it will definitely take you some time to complete it. From my experience, there were undoubtedly a few golden nuggets to take away for creating a successful online business empire.
But remember, that it's just a guide that can help you understand a specific scenario along with the methods and the strategies. If you really want to succeed in your life or in your business will have to implement the knowledge you have gained.
The Topics Discussed In Marketing Secrets Black Book
the whole book is divided into six different sections, each of which covers one a specific topic.
Foundation
Become an expert
Your offers
Funnels
Sales
Mindset
Foundation
In this section, Russell discusses around twenty to twenty-five different secrets related to starting up your own online business.
Russell discusses various strategies that will help you create a solid foundation for your future or current online business. The foundation will eventually help you convert your business into a multimillion-dollar, money printing, passive income-generating tool.
As a marketer, I believe it's an essential task for you to have a perfect foundation in position from the very start. Unless you have the foundation which basically means the goals, the basic understanding of marketing, fundamentals of promotion and traffic generation, etc. there is no way you will be able to create any successful online business.
Become an expert
In this section, Russell's topic of discussion is "how to become an expert" or an authority in a specific niche. If you have an even basic understanding of marketing, then you probably know how important it is to be an authority in a niche. Individuals will only trust you when you can prove to them that you have achieved a particular milestone in that market. Unfortunately, becoming an authority is not easy and requires a lot of time and hard work.
Russell, in this section, guides you through the steps that he believes will help you serve your audience, customers with the highest priority. He teaches you the importance of giving, helping others with their problems because only then you will be able to create a connection and a sense of trust. And only when someone will have trust in you, they will purchase your recommended products or services without thinking twice about spending their hard-earned money.
Your offers
Who doesn't like freebies? Freebies are the best way to make your product or service lucrative. You need to understand that individuals will only make a purchase when they find the product or the deal to be more expensive than the Monte are spending on it.
Russell has mastered the technique of traffic generation and product promotion. He believes that by beefing up your service or offering some extra goodies, services, applications, you can make your offer more attractive to your audience. Furthermore, you can explain to them the importance of your goodies and how they can help them achieve better success online.
Try to implement the freebie strategy discussed by Russell, and you will definitely notice significant improvements in your business.
Funnels
For those individuals who aren't familiar with the term funnel, in terms of marketing, a funnel can be considered as a process of converting your audience into your paying customers.
Any funnel involves various steps that are crafted considering your user's activity. So, a funnel doesn't only includes creating sales pages, subscription boxes; it depends heavily on your ability to understand your audience.
In this section, Russell discusses the importance of funnel for any business and how by implementing a correct funnel business can generate a massive profit.
I must say that Russell doesn't give you deep inside of this topic but definitely provides you with enough information so that you can get started with the funnel and click funnels.
Sales
This section is all about promotional strategies and the ways you can understand the mind of your potential customers so that you can sell them not just one product but many more in-coming days by making them join your email subscription.
He also discusses the importance of quality products. If you want a free promotion that is via word-of-mouth, then you need to create a product that literally changes your customers' life or financial situation. Only when they will notice changes, they will recommend it to their friends and family members which individual will end up making you even more money.
Mindset
In the final chapter, Russell discusses the importance of maintaining the right momentum and right mindset.
He shares his experience in this section and discusses while losing momentum because of some negative thoughts can actually destroy your business. He then further talks about how difficult it is to come back from position zero.
Final Thoughts: Marketing Secrets Black Book Review
Marketing Secrets Black Book Review. Without any doubt, the Marketing Secrets Blackbook is a gold mine of strategies, secrets, and stories that Russell has implemented, learned, and experienced in his 20 years as an Internet marketer.
What makes it even more lucrative is the fact that this book is available for free of cost (Free PDF Download). You don't have to pay her time to download the digital copy of this product.
The only secret this book doesn't tell you about is the sweet Clickfunnels bonus stack that you can get right now!
Get your copy of the Marketing Secrets Blackbook now and generate more leads and business today.
This is worth your time to flick through and get some golden marketing nuggets from!
​
Other Articles