You have just finished reading the books DotCom Secrets and Expert Secrets
You understand the theory behind what goes into creating awesome sales pages
But there is just one thing
You don't know what a successful sales funnel looks like.
This is where the Funnel Hacker's Cookbook comes in to save the day.
Conclusion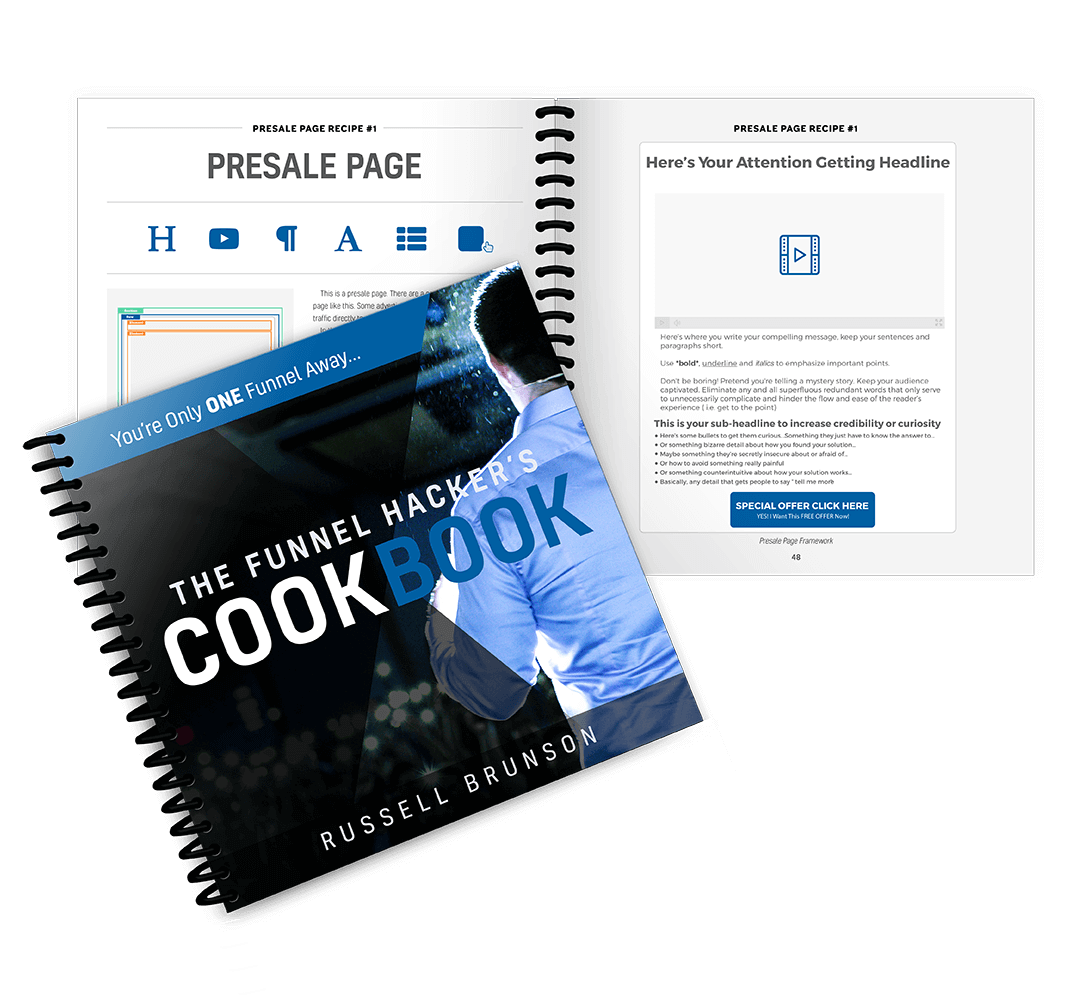 Here is exactly why you should get the Funnel Hackers Cookbook:
Pros
It's Free! Just pay the shipping fee.
Helps plan your sales funnel pages.
22 different type of funnel plans.
Know what page elements work best.
Shows what funnels work best and where.
Cons
This is a great book for anyone who needs a visual overview of what a successful funnel should look like. It's also free so its a great addition for any marketer.
Not only will this book show you a bunch of recipes for building high-converting funnels, but it will also show you exactly what elements work on each of the pages.
This is a must-have for anyone who is serious about creating sales funnels.
What Is The Funnel Hackers Cookbook?
The Funnel Hackers Cookbook is a book that contains 22 different types of sales funnel plans for you to copy and follow.
It includes plans for different pages such as:
Squeeze page
Video sales page
Video sales letter
Webinar registration page
Sales letter
And much more
This book is the creation of Russell Brunson, who is one of this generation's most brilliant and successful marketing entrepreneurs.
He's also the brainchild of Clickfunnels, which is a funnel creation software. Funnel Hackers Cookbook teaches you how to use the software to create funnels.
Who Should Get The Book?

As for who should get it, anybody who runs a business, regardless of whether it's online or offline, should buy the book.
Getting a good idea of what sales funnels look like is crucial for any business, no matter how good you think you are.
The same goes if you're an affiliate marketer who promotes other people's products.
The bottom line is if you want to take your business to the next level, capture leads, and create amazing-looking funnel pages, then you should order Funnel Hackers Cookbook.
The Pros
Besides being written by a world-renowned entrepreneur, there are many other good things about it. The top pros include:
Learn To Build Sales Funnels
The best thing about the book is it teaches you everything you need to know about building useful funnels. The truth is that anybody can make a funnel page, but not everyone can build an insanely profitable one.
Thanks to the info in Funnel Hackers Cookbook, you'll finally have a very high chance of building funnels that will reap your profits.
Easy To Understand Content
Although there is a ton of info within the book, it is laid out in a similar way that a real cookbook is laid out.
The content is laid out into three main sections, the ingredient section, the other being recipes section, and the third section referred to as the main section, which is where you'll learn more about the types of funnels you can create.
Suitable For Any Type of Business
Another good thing about Funnel Hackers Cookbook is it is perfectly ideal for any kind of business. It doesn't matter what type of company you run or what products or services you offer, the chances are you can benefit from having a funnel page.
This book will teach you how to build a page and will even provide you with ideas you might be interested in trying.
Newbie Friendly
The book is newbie-friendly. Even if you know absolutely nothing about building funnels, you will not have a hard time taking in the info.
It might be overwhelming at first, but as you progress through the book, things will become easier.
Training Videos Included
It's also worth pointing out that the book includes a few training videos. If you're the type of person who prefers video training over reading written content, then you'll appreciate this. The videos are included for free.
Once again, the content is laid out in a way that is easy to understand. I'm confident you will not struggle to learn everything that the book teaches, but it is nice that there are a few videos you can turn to.
Don't forget, if there is something you don't understand, then take a breather and then come back to the section and reread it.
Those are a few of the many pros of the Funnel Hackers Cookbook. There are a lot of other good things I can say about it. However, those are the top things I like about it.
The Cons
As for the cons, there aren't many. In fact, there are only two cons I can think of. Those two cons include:
Information Overload
For starters, the book is filled with a ton of info, and you might be completely overwhelmed by it. If you're relatively new to marketing or funnels, then you might find yourself becoming stressed out due to the tremendous amount of info.
Personally, I believe it's a good thing that there is a ton of info, but I realize that newbies might be discouraged from reading the whole thing.
However, as you go through the book, you'll likely start having fun learning about funnels, and you'll have fun actually implementing the advice.
Shipping
If you live in the United States, then shopping costs won't concern you too much. However, for those who live outside of the US, you will pay extra for shipping. This will add to the overall cost of the book.
In my opinion, the above are only minor cons.
They shouldn't be enough to discourage you from ordering the book. However, I do suggest learning a little about ClickFunnels before you order the book.
Funnel Hackers Cookbook Price
One of the best things about the book is it is affordable, As in, it's FREE. But you must pay for shipping if you want the physical copy. This depends on where you live.
Once you signup, you will also get instant access to the digital download so you can start reading straight away.
If you request a physical copy of the book and if you live outside of the United States, then you'll have to pay extra for shipping.
Conclusion: Funnel Hackers Cookbook Review
In my opinion, I believe that the Funnel Hackers Cookbook is well worth the price of shipping.
If this is your first sales funnel or you have not had luck building successful sales funnels on your own, then this product is for you.
We recommend buying it, reading through it, and then implementing the advice. We feel that if you do this, you'll experience a good deal of success with funnels.
Other Articles